---
Hall of Fame: Aaron Fischer
2004 inductee
Aaron was inducted to the Hall of Fame in February 2004, in his first year of eligibility. At that time, there was only one inductee per year.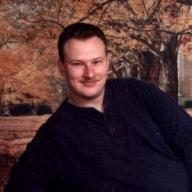 One cannot consider the history of the goo game and overlook one of its most aggressive and accomplished champions. It is Aaron Fischer's excellence as a player—his restless pursuit of the right answer on so many occasions no matter how difficult the goo—that truly makes him such a looming giant among the game's great players. The only competitor to go toe-to-toe with the formidable Matthew Preston in an exhaustive elimination round that defeated everyone else, Aaron hasn't just surpassed the general playership, he has transcended it. His induction into the Hall of Fame is well earned. But Aaron didn't just get on this page because of his mastery of the goo game; he is also inextricably linked to its past.
When Aaron joined the game late in Round II, every consistent player up that point had been a friend of Scott. Though Aaron and Scott were acquainted, Aaron was really the first friend of an existing player (Erik Nelson) to join the game and stick with it. He liked the game immediately, and by continuing to play with enthusiasm through the lean rounds that followed his joining, he was integral in keeping the game alive until it found its proper audience. By now, hundreds of people with little or no connection to Scott have joined the game; Aaron was the first, and proved to Scott that it would someday be possible to sustain this game without Scott's closest friends as players.
As Aaron's love of the game flourished in the early years, his friendship with Scott grew as well; the two remain in touch today even though the man connecting them is long absent from the picture. The game even inspired Aaron to run a weekly game on his own web site, in which players tried to recognize brief clips of TV themes with the help of enigmatic clues. Scott was the first person invited to play (on account of Aaron kindly seeking his permission to steal the format), and lasted until the final week of the competition, when Mike Eberhart narrowly defeated him to win. Years later, Aaron convinced Mike to try the goo game; Mike has become a very successful player in his own right, and has in turn introduced Kelly Stokes and Wendy Eberhart to the game, all stemming originally from Aaron.
Besides introducing great players, Aaron has been supportive in other ways for years: He has endorsed every scoring system and occasionally suggested improvements, he was one of only two players to keep the "Goos in the News" feature alive by voicing appreciation for it, and he has helped Scott debug various glitches on numerous occasions (including debunking the clue for Mikhail Kalashnikov). He has also developed a unique personal trademark as a player: Once every round, he finds and sends to Scott the source image used to create the goo, as proof of his sleuthing talents. He has requested or inspired the goos of Colin Powell, Charlton Heston, Jan-Michael Vincent, Sadoozai Panah, and Ernest Borgnine. Technically speaking, he was also the first Goo Champion in the game, since the award was invented the week after he defeated Kelly Stokes in a prolonged tiebreaker to win Round XVII. And on the subject of victories, Aaron has won the game three times, making him the second-winningest player in the history of the game. He has also earned every single award at least once, except for the Big D and Big M, which no one has yet to earn, and the Goo Master trophy, which he has come within three goos of stealing from Matthew Preston, the closest anyone has ever come since the game began.
Other players fear getting into a tiebreaker with Aaron because of his tenacity as a player, fueled by his deep well of enthusiasm for the game. He remains one of the most decorated players in the history of the game. After five years of close pursuit, it remains unknown whether Aaron will ever steal the Goo Master trophy from Matthew, but he earns credit for trying like no one ever has. Many players can win the game, but few can personify the word champion like Aaron can. The Hall of Fame is honored by his deserving inclusion.
Aaron's comments: It is truly an honor to accept the 2004 induction into the Hall of Fame! Who could have guessed that a simple game amongst a few friends and collegiate associates would become such a smashing success? Scott, when are you going to start selling pop-up ads and banner advertisements? All joking aside, I must say that I'm glad to be a part of it and wish all players, present and future, the best of luck. My thanks go to all who have made my success in this game possible.