---
Celebrity Goo Game
Where pop-culture trivia makes funny faces.
How well do you know famous actors, musicians, athletes, newsmakers, and other celebrities? In Celebrity Goo Game, a distorted photograph of a famous person (a "goo") is published daily, along with a few hints. Guess correctly and you'll enter the seasonal competition, where the eventual winner earns a gift-card prize.
---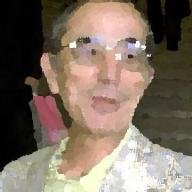 Literature
He was so shaped by the horrors of WWII, particularly the loss of his sister after their city was firebombed, that he wrote acclaimed children's stories that used fireflies and seaweed as metaphors for war.
Guess Now
---
Other Current Goos