---
Hall of Fame: Mike Eberhart
2006 inductee
This article was written in February 2007, when Mike was originally inducted to the Hall of Fame, at a time when there was only one inductee per year. In February 2020, his year of induction was retroactively changed to 2006, his first year of eligibility.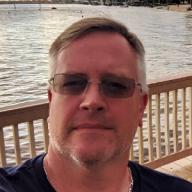 Some people play the goo game just for a daily diversion, but within the player body, there's a thriving subculture of competition, people dedicated to doing what it takes to win. Few players exemplify the spirit of the goo competition like perennial top-scorer Mike Eberhart, who plays exceedingly well and always with sportsmanlike conduct. Mike roots for his opponents, gives advice to struggling players, declines unfair advantages, and seeks a level playing field for all. His conduct on and off the site, along with his inveterate excellence at the game itself, earns him a place among the game's most honored participants.
Mike's relationship with Scott Hardie was born in competition. In 1999, Aaron Fischer enjoyed playing Scott's weekly goo game so much that he made a similar contest on his own web site, inviting friends to recognize television theme-song jingles from their first few seconds and a vague clue. Scott was determined to win Aaron's game as its inspiration, but Aaron's friend Mike Eberhart claimed victory in the final week, unsatisfied merely to play and lose. Mike and Scott congratulated one another on playing well, but Mike remembered it two years later when he tried the goo game. He excelled from the start, guessing nine out of ten goos correctly in his first few months, and his obvious talent for the game made his successive narrow misses at victory seem not like player failure, but failure of an unfair scoring system to honor the rightful winner. Mike was the runner-up in Rounds XVIII and XIX, cheerfully accepting second place when his friends edged past him, leading to the joke, "Always the bridesmaid, never the bride." Finally, the game fell to its deserving champion when Mike won Round XX on the landmark 300th celebrity goo. He has continued to dominate the competition ever since, becoming the official runner-up again in Round XXIV, guessing more than 90% of the goos in a round seven times, and far overtaking original goo masters Matthew Preston and friend Aaron Fischer to come within grasp of the title himself, only a few guesses shy of Denise Sawicki's all-time high score record at the time of his induction to this hall of fame.
But Mike doesn't play so hard to win because he enjoys beating others; the competition is a pleasure for him, and friends make it even more fun. Other than Scott Hardie himself, no one has brought more new members to the site: Starting with his sister Wendy Eberhart, Mike invited Kelly Stokes, Jerry Mathis, Justin Woods, Russ Wilhelm, Bill Thompson, Derrek White, Ryan Tut, Bob Miller, and William Baysinger to the site, and in turn they brought Jacque Miller, James Miller, JoJo Woods, John Julitz, and Justin Hampson. Several of these players have become champions themselves, and Mike has spoken of the fun they have when trying to out-do one another. Mike has also been the most outspoken opponent of switching the goo game to team-based play, despite belonging to such a strong potential bloc of champions, because he enjoys the head-to-head open competition too much. Whenever the question arose as to what the site needed most, Mike's answer was always the same: A player accomplishments page, to make the competition even sweeter. His requests were granted with the Player Awards page.
Mike only wants to play fair: In 2004, he was so upset at implications that he and Kelly Stokes shared answers that he spoke of quitting the site, until numerous fellow members pleaded with him to stay. In 2003, when a friend told him the right answer to the difficult Takehito Koyasu goo that was stumping everyone else, he declined to guess. As the game's scoring system evolved, he politely spoke out against the randomized systems that resulted in arbitrary champions, preferring an equal chance for all. When Scott has asked for player's opinions of what should be done with rule infractions (some of them pointed out by Mike himself), Mike has always sided with what's most fair for all players. However, his supreme sense of fairness hasn't stopped him from asking for one small consideration, which has gone on to help many fellow players: A guess confirmation message, since he had a bad habit of typing the right guess for the wrong goo, which he and Scott addressed with good humor.
In the years since he joined the site, Mike has become the dominant conservative personality, letting his pride in the U.S. Armed Forces shine through in goos of Scott O'Grady, Chester Nimitz, and George S. Patton; he also inspired goos for Mikhail Kalashnikov, Paul Tracy, Mike Judge, Heinrich Himmler, and Frank Abagnale Jr., Ann Coulter, and Shirley Muldowney. As often as he has disagreed with other members about politics or other matters, he has never resorted to arguing, name-calling, or other conduct beneath him; few site members have distinguished themselves with the degree of integrity that Mike has maintained every day of his six years on the site. Whether Mike is beating you in the goo competition or just in a debate in the forum, you know he's doing it fair and square.
Mike's comments: It's an honor to be considered a Hall of Fame caliber player. I really don't know what else to say other than I'm going to continue to play this game with the same about of competitiveness as I always have. I definitely look forward to playing this game on a daily basis and I'm glad that it's grown to the level that it has. It's a lot more enjoyable now that there are several outstanding players to compete against. Thanks again for this award.