---
Hall of Fame: Russ Wilhelm
2010 inductee
Russ was inducted to the Hall of Fame in February 2010, in his first year of eligibility. At that time, there was only one inductee per year.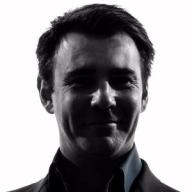 No list of Celebrity Goo Game's most exalted players would be complete without the champion who dominated it throughout the late 2000s, Russ Wilhelm. After a taste of success early in the game, winning in only his second round, he defeated fierce competition in the succeeding years and won two back-to-back rounds in 2008, repeating the feat in 2009. This made Russ by far the most frequent winner of the game's latter era of daily goos, conquering one out of every three rounds that he played. Russ's perennial victories have made his name synonymous with what it means to win the game in the years leading up to his well-deserved 2010 induction into this hall of fame.
How has Russ prevailed so often at a time when the game has gotten so difficult? Consistency is his hallmark: His streak of 102 consecutive correct guesses for five straight months blew away the previous record of 83. But in his own words, "using everything" and "not giving in" have played a role in his success, too. After winning his third round with the sole correct guess on a tough goo (of a fellow champion no less, in the sport of log-rolling), Russ accepted entreaties to explain his strategy for the benefit of fellow players. He turned out fourteen paragraphs outlining his day-long search in detail, explaining his thought process as he avoided one trap after another that tricked his opponents. Russ is consistently gracious to his competitors in both victory and defeat, and he has helped to shape the player body indirectly as well, introducing the game to his daughter Joanna Woods and her husband Justin, who in turn introduced their friends and co-workers, who introduced even more people.
Russ has been kind to the site as well. A frequent suggestor of good ideas for the goo game, Rock Block, and other features on Funeratic, he devised his own system of randomization for RB concerts and shared it with fellow players. His counsel has been sought (and followed) numerous times about varying matters pertaining to the game, especially when the question of fairness arises. He is one of only two players to contribute an entire week's worth of goos at once in a themed week, and the third most prolific requester of goos in the game's history, earning accolades and grievances in equal measure for his tricky creations.
Russ has earned the third most Golden Imeldas in the game's history (two of which resulted in game victory). His all-time score ranks among the game's top five in history. He is only the second player to pull off multiple pairs of consecutive victories. Getting inducted into the Hall of Fame may sound like just another inevitable accomplishment in his goo game career, but formally inducting him only makes official what everyone he has beaten already knows: Russ Wilhelm is one of the greatest players ever to compete in Celebrity Goo Game.
Russ's comments: I find that it is a true honor to be recognized among those whose have blazed the way before me. The Goo Game is fantastic, and this site is amazing. To know that I have given something back,...it feels good. I look forward to being able continue doing so in the future. Never give up.