---
Hall of Fame: Steve West
2009 inductee
Steve was inducted to the Hall of Fame in February 2009, in his first year of eligibility. At that time, there was only one inductee per year.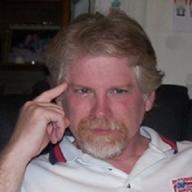 It's tempting to regard Steve West's triumphant success at the goo game as mere natural talent. After all, he roared into his first victory with only 37 goos under his belt, one of the fastest times in game history. But the key to Steve's continuing achievements is his ceaseless dedication to the game. He doesn't skip any goos, he carefully researches every answer until he's sure he's right, and he pays attention to game traditions and obscure rules to avoid wrong guesses. These smart habits and his spirited enthusiasm for the game have made him a formidable contender round after round. Steve modestly claims that he's no good when the tournament goos are timed and thus he can't sufficiently research them, but there's evidence to the contrary: Two of his three victories have come from besting other skilled players at timed goos. Maybe he really does have a gift for the game after all...
But as intimidating as Steve can be in any tournament, it's clear that he wants everyone to enjoy the game as much as he does. He has twice created an entire themed week of goos himself, sending them one at a time to Scott without the answers so that Scott could play the game for a change, and the sixteen goos he has created himself is second only to Lori Lancaster's record. He regularly joins conversations about the game on the site, encouraging fellow competitors and weighing in on rule changes. And he wouldn't have missed attending the first GooCon in 2008, where he bonded with fellow players in person—and became the first person to win the live edition of the goo game, naturally. That achievement made him the first person to win a trophy for the goo game without being inducted into the Hall of Fame, and now he becomes the first person to have two trophies. Through it all, Steve has remained modest and friendly; he is a gentleman as much as he is a scholar.
The game statistics show more proof of Steve's greatness. He belongs to a rare club of players who have won the game three times, and between those wins, he has been named "runner up" an unprecedented nine times, recognition for solving 90% or more of the goos in a round even when he didn't win. He has also pulled off a Golden Imelda and earned one of the longest unbroken steaks of guesses in the game. His prodigious efforts continue to serve him well to this day: As of his February 2009 induction into this Hall of Fame, he is the current game champion, and he's less than five goos away from having the highest score of all time and becoming Goo Master. But even if Steve has many successes still ahead of him, he has already accomplished more than almost anyone in the game. He's too modest to say it, but he has more than earned the distinction of being called one of the greatest players the game has ever seen, and the game is immeasurably better for having had him in it.
Steve's comments: I've said this before, other than my home page, this site is the only one I visit every day. It's speculated that mental exercise staves off dementia in old age and if that is true, this game has me set until I'm ninety. It's difficult to find an adequate comparison to the pleasure received from playing, competing and succeeding at this game. Suffice it to say that I am honored to join the ranks of those who preceded me here.