---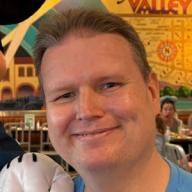 I haven't written about my life in this blog for a while because I haven't liked to think about the state of my life. Things could always be worse, but I still don't feel much optimism these days.

- We're being pinched by the economy. Kelly is out of a job. I've been downsized out of management, and I'm working many late nights to cover the workload of others laid off. It's why I haven't been around on the site as much these last few weeks. I actually really like my new position, but I'm frustrated that I can't do it well as long as there's much more work than one person can do. There's well over a hundred hours of work a week in this position, and so far I'm surviving by delegating as much of it as I can. To bring in some extra money while Kelly's out of work, I'm looking at some freelance opportunities, but that would eat up what's left of my time.

- Our cat is sick. She's dropped from 12 pounds to 7 pounds in a few months. She spent the last few weeks throwing up daily. So far the vet can't tell what's wrong with her, but we're hoping all those expensive tests will tell us something.

- We're struggling not to be evicted. Ironically it's not because we can't afford rent, which we still can. It's because the apartment complex has come down on us for letting the place get messy since the layoffs (Steve saw it in a similar chaotic state during GooCon), but they're still being tough even after we cleaned it thoroughly. We've had two nights this week of staying up past midnight frantically cleaning, and we're going to have a third one tonight. Hopefully this next inspection will be the last because we can't keep going on like this. On the bright side, our apartment is incredible right now. I feel like passing out on the nice clean floor.

- My foot became increasingly pained a few weeks ago, and the initial diagnosis was a hairline fracture. It was not anything dramatic like Tony had, but enough to be too painful to put any pressure on it. Hundreds of dollars in tests later, they determine it's a tendon problem and give me steroids that take the pressure off the foot. The pain slowly went away, but it hurt like hell while I had it.

- Kelly's brother had to cancel a visit to Florida to repair his car's dead engine. I didn't have any vacation days left to spend much time with him myself, but Kelly was really looking forward to the visit as a way to lift her spirits while jobless, and it was just plain going to be a lot of fun to spend a few days doing touristy things with him. On the upside, I guess we saved that money.

The good news is, we have hobbies that merrily distract us from all of this, we're surrounded by good friends who make us happy, we're more or less healthy and so are our families, and honestly, we still have it a hell of a lot better than most people these days. Here's hoping all of 2009 isn't going to be as bad as its first two months.
---
Four Replies to Grievances




---
Logical Operator
The creator of Funeratic, Scott Hardie, blogs about running this site, losing weight, and other passions including his wife Kelly, his friends, movies, gaming, and Florida. Read more »