---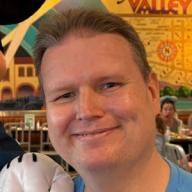 Things I would rather have done than work until 2am on a Sunday:

- Fix the Obsessions page.
- Fix the sidebar on my blog.
- Review Spider-Man 3.
- Review a bunch of other movies.
- Blog about new friends.
- Get Death Proof off the homepage.
- Blog about this weird murder case I heard about.
- Write a less hostile follow-up comment in the "Gay Marriage" discussion.
- Prepare for my NASCAR trip with Steve Dunn.
- Blog about this weird medical condition I read about.
- Prepare the 1000th goo and several to follow.

I'm not saying I could have done them all, but at least one or two would have been nice.

Sigh.
---
Three Replies to I Miss My Site



---
Logical Operator
The creator of Funeratic, Scott Hardie, blogs about running this site, losing weight, and other passions including his wife Kelly, his friends, movies, gaming, and Florida. Read more »