---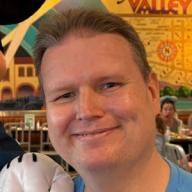 Yesterday was my 13th anniversary of dating Kelly. We've been through many ups and downs together, and those downs have to do with why we're not married yet, but I love her as much now as I ever have. Here are 13 things that have been a part my life for less time than we've been dating:

- The Internet.

- My cousin Vanessa, who's now in middle school.

- Paying taxes.

- Manhood. (Get your mind out of the gutter!)

- A high school diploma.

- JonBenet Ramsey, Theodore Kaczynski, Dolly the sheep, and other news figures of 1996.

- Having a brother.

- Voting.

- Sony PlayStation.

- Not living under my parents' roof.

- Chinese buffets.

- Every friend I have, except Lori.

- Knowing what love is.
---
Three Replies to Feeling Lucky



---
Logical Operator
The creator of Funeratic, Scott Hardie, blogs about running this site, losing weight, and other passions including his wife Kelly, his friends, movies, gaming, and Florida. Read more »