---
23-VIII-2006 or Please think for me, I can't bear to.
by Aaron Shurtleff on August 23, 2006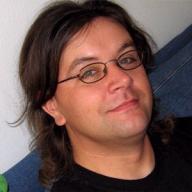 Work is going to kill me! I've been out in the sun too long. I need a quick break. How do I spend it? You're looking at it! :)

Well, I was out squatting for a while, counting insects on about 1000 tomato seedlings that are 2-4 inches tall. The back is screaming at me right now! Ow! Then, I had to pipet a product (we hate to say pesticide...like using a different word changes anything) onto plants 2.6 mL at a time. 400 plants. One by one. Repeat repeat repeat! I need a vacation. Oh, wait! I got one coming! Yay!!

The title is from a song I've had on my mind..if you can call it a song. "Wet My Bed" by Stone Temple Pilots. It's not the song of the day, though. Just on my mind.

I'm on the countdown. 14 days. I hate getting older. Yuck. Glad I'll be out of the country when it hits. I only have to worry about my wife reminding me. Until I get back... :(

It's starting to look a bit cloudy. If it rains, I won't be able to finish up my ladling. (Don't ask!) I should get going...

In a bit! :P

The song of the day will be "Black" by Pearl Jam. Just because.

I know someday you'll have a beautiful life
I know you'll be a star
In somebody else's sky
Why..why..why can't it be..can't it be mine?

If that doesn't touch your heart, you don't have one.
---
MiracleASSassin
Aaron Shurtleff uses this area as a dumping ground for his random thoughts... Read more »