---
Collaborative Theatre with Irrational Actors
by Kris Weberg on August 15, 2006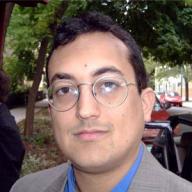 At a certain point, I guess everyone realizes that it's no use arguing with someone who's coming from virtually a different planet in terms of assumptions and opinions. And at a certain other point, some people realize that they cannot stop despite the uselessness of going on.

While that sort of argument only very rarely happens to me here at TC, it certainly happens to me elsewhere, where I use various Zaba-proof psuedonyms to conduct my arguments about subjects ranging from the pointless to the inane. No place is worse for it than fandom(s), as others have chronicled. When nothing is at stake but ego, argument knows no bounds.

But lately, despite having finally discovered that you can walk away from such no-hope arguments and live, I've been troubled by another possibility: what if it's me? That is, what if some or all of those arguments in which I just knew the other person was clearly delusional, I was the total nutter?

By definition, I wouldn't be able to tell, right? I mean, if you're absolutely certain about something, doesn't all the evidence available read like support of your point? Do total nutters ever know that they are total nutters?

Most of the time, that kind of epistemic uncertainty can be resolved by resort to some standard of evidence or at least sanity. But there are debates -- sometimes important ones -- in which that just isn't possible.

Abortion, for instance, stands out as such. It's really a debate about the definition of a human life, and if someone truly believes that a fetus is a human being, that abortion is murder, I'm not sure that any argument will convince that person otherwise. Leaving aside the sheer moral outrage on both sides that prevents cool argument -- who can be collected and cool about murder, Gus Grissom aside? And who can be calm about someone else trying to take command of or limit their use of their own body? -- the real problem of abortion is that it becomes next to impossible to "prove" what a human life is regarding the fetus, whose DNA is recognizably human but whose capacities to function mentally and physically are not those of what we normally consider human beings. From an evidentiary standpoint, the fetus is an outlier, an extreme or border case where the usual criteria break down totally and we're left with speculation, metaphysics, and (if we are really honest) with personal belief.

I'm pro-choice because my own beliefs and metaphysical commitments put me squarely on the side of comapratively visible self-determination, usable human abilities, and some version of mentality and self-understanding as my criteria for what makes a human, well, human. For me, it's the soul that falls into an abyss of doubt, and the mental life that becomes the standard because, to me, it's the mental life that allows us to interact with others, perceive society, feel things for and about others, and try to communicate that make us who we are. (This means that I'm also anti-death penalty and pro-euthanasia.)

But I can't prove there's no soul, and I surely can't convince anyone who thinks souls are present from conception on and make that fetus a baby, a human. All the supposedly practical criteria I can present don't speak in any way to that belief. To many religious people, I'm the irrational actor where this matter is concerned, and perhaps I'm dangerously irrational, since I'm trying to allow what they consider not just murder, but systematic, large-scale murder.

So I vote against them, otherwise try to respect their beliefs and right to refuse abortions and write living wills opposing euthanasia, and go back to endlessly arguing about whether or not Superman can beat up the Silver Surfer.

He can't.
---
Six Replies to Collaborative Theatre with Irrational Actors






---
Berserk Wig
Legend has it that Kris Weberg's head is filled with delicious candy, which is why he avoids blindfolded children carrying sticks. Fortunately for you, he's decided to empty the leftovers here at his blog for your amusement and bemusement. Read more »