---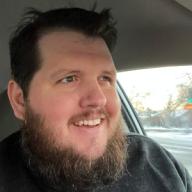 I would also like to add that the other day I realized that I hadn't shaved in about a week and a half.

Ok, so it didn't just dawn on me suddenly. I'm just too lazy, and hate shaving.

But! Someone said, "Hey, just grow it out."

So... I am.

It's been 17 days now (I think) since I last shaved, and do you know what I've realized? In the game of beard growing, I lose miserably. But I'm not giving up! I figure if I just let it keep going for a while, it'll fill in better. Being the nerd that I am, I decided to Google it, and the "pros" out there say you should let it go for at least 4 weeks for everything to fill in properly. We'll see how far I can go before my boss just says "enough."

I seriously considered following this guy's example, but realized that 17 days into it, I didn't have the energy to start over and remember to take a picture of myself every day. My facial hair growth is so damn slow, anyway, it would be a week before you saw any change!

I am tempted to trim a bit, though, so people can see that there is a purpose, and it's not just me being lazy.
---
Six Replies to HAIR!






---
On a Rant
Another desperate attempt of Erik Bates to create a blog that nobody will read. Expect illogical arguments with no basis in fact, and plenty of contradicting statements. Read more »