---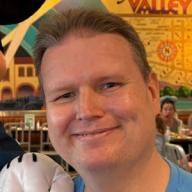 I'm not superstitious, or I wouldn't say this until the closing next month: Kelly and I are buying a house. It's a great house, too, with a guest bedroom and a pool, and the neighbor training horses in the back yard every day, and plenty of room for just about whatever we'd want to do with it, at a lower price than similar houses around here. It's not a hundred percent perfect but damn if it ain't close.

I feel like the luckiest person in the world when good fortune like this comes into my life. All I can do is try to be grateful for it. Kelly and I have waited too long to own a house (we should have done it years ago in preparation for retirement), but once we decided to go for it this fall, the process was surprisingly fast and smooth. One weekend we met with a friend of mine who's a realtor, the next weekend we looked at a ton of houses, and the third weekend we looked at this house and made an offer on it. Our offer was accepted the very next day, and since then it has been a flurry of paperwork and errands and decisions. We're now finally entering a lull in the process where we wait a few weeks for the bank to process the loan, but if we close as expected on November 21, I'm sure there will be a few more crazy weeks of moving and getting settled. With luck, we'll be in before Kelly's family visits for Christmas (how nice it will be to have a fireplace on that day), but otherwise it'll be January at the latest. Words are insufficient to express how excited and gratified we are about all of this.

Looking back on the process, I can see that we had certain advantages that allowed us to buy a house in two weeks. First, we knew our needs by spelling them out and identifying which were most important to us. Second, we knew our limits, by taking the realtor's advice and getting pre-approved for a loan first so that we didn't waste our time looking at houses beyond our reach, and also knowing that our current lease ends January 31 so we had to make an offer within the first 4-6 weeks in order to be out in time. Third, we (especially Kelly) searched online and knew the houses in the area. There really weren't that many houses matching our needs and wants in our price range, and several were taken already by the time we reached them, so we knew to act immediately when we found one available. We're in a dance now where the bank says jump and we ask how high, dropping everything to get them whatever financial documents they need to process the loan and give us the green light to close, but it's quieting down.

A few things could still go wrong and spoil this purchase, but they're getting more unlikely by the day, so here's hoping that I'll get to write a follow-up post in a couple of months describing how we're all settled in. Considering that I canceled today's GooCon to make this house purchase happen, I thought it was a good idea to share our progress. Thanks again for understanding about that.
---
Four Replies to House Hunted




---
Logical Operator
The creator of Funeratic, Scott Hardie, blogs about running this site, losing weight, and other passions including his wife Kelly, his friends, movies, gaming, and Florida. Read more »