---
Mike Judge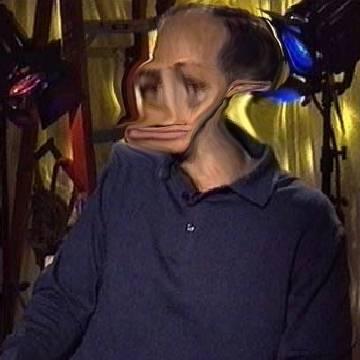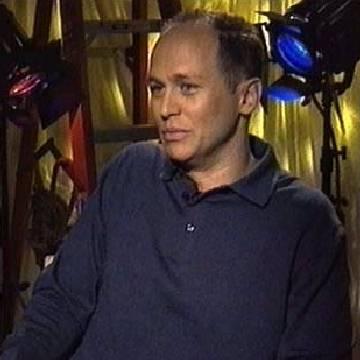 This celebrity goo was created by player Mike Eberhart.
Scott Hardie provided the source image, gooed image, category, and difficulty, made minor changes to the clue provided by Mike, and wrote the explanation.
publication date: Sunday, August 24, 2003 (part of Round XX)
category:

Television
clue: The Lone Rangers really thought this caller was childish.
explanation: Judge was the creator of the TV show "Beavis & Butt-head" and also voiced the child-aged characters ("childish"). In the movie "Airheads," the fictional band The Lone Rangers took a phone call from Beavis & Butt-head, voiced by Judge. more…
solved by: Erik Bates, David Mitzman, Anthony Lewis, and Jason Charles Butterhoff
trivia: This goo has a convoluted history. In February 2003, Scott was inspired to create a Mike Judge goo based on a news article about Judge's TV show "King of the Hill." Attached to the article was a photograph of a smiling Judge in front of a blown-up image of his character Hank Hill. Scott gooed Judge's face but left Hill visible in the background. A month later, Mike Eberhart sent in a goo request for Hank Hill, and Scott saved the request for several months. In July, Scott knew it was soon time to grant the request, but since he already had a gooed image of Judge, he asked Mike's permission to use Judge instead of Hill. Mike agreed, on the condition that the goo would be made extra-difficult as Mike's revenge for the Takehito Koyasu goo earlier in the round. In August, the week before the Judge goo was to go online, Scott saw that the system had randomly selected Kelly Stokes to receive the Lottery point bonus the following week, which would probably win her the round. Scott figured that if Kelly was going to win on Mike's goo, Mike ought to be responsible for it more directly, and he asked Mike to write the extra-difficult clue himself. (Meanwhile, Scott deleted the old goo and created a new one that didn't have a giant Hank Hill fully recognizable in it.) When Scott first read Mike's clue, he didn't think it was as difficult as it could have been, but Mike's plan worked: Most players were stumped, including Lori Lancaster and Kelly, his two biggest threats in the scores. At the last minute before the goo went online, Scott considered holding it till the next round and using it as a "king" goo (due to the show "King of the Hill"), but after he and Mike had gone to all that trouble, he decided, screw it.
---
Similar Goos