---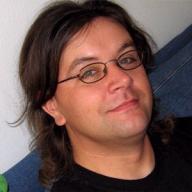 I'm really getting into the band Against Me!. (Do you put in a period in a case like this, where the band name ends in a punctuation mark??) I really like the song Thrash Unreal (I wish I could karaoke it! Maybe it'll out for the Rock Band by the time GooCon comes around. Not that anyone will appreciate my singing it, but...), and I just saw another video on YouTube that was awesome.

Song of the day: "White People For Peace" by Against Me!

I got nothing today. Just that.

EDIT: Thank you Scott for the add to Obsessions! I just noticed it today! ;)

EDIT#2: Once again, thanks to a whirlwind haircut, I do not look like my current picture here.
---
MiracleASSassin
Aaron Shurtleff uses this area as a dumping ground for his random thoughts... Read more »