---
13-X-2006 or Yeah, yeah, yeah I know what day it is.
by Aaron Shurtleff on October 13, 2006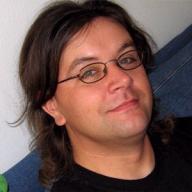 Why is it that the sanest people I know (not saying much) always go batsh!t on Friday the 13th? It's a day! Get over it!

I wish I could be here more than once a week. I might have a plan in mind that will solve my lack of time problems! More to come later.

No, my plan does not involve losing my job. ;)

How come every time you come around, my london london bridge wanna fall down? A wiser question has never been asked...in my blog. :P

I'm still alive (much to some people's consternation!), but I'm really busy like a bee! Like a tireless worker ant pulling a giant fat caterpillar back to the mound, I slave away. Like a huge bumblebee...oh, you get the point!

I just got some fishing lures at work today, so if anyone wants to go fishin', give me a call! I just need...everything but the lures! They're freshwater lures, by the way. I would like to go fishin' some time. When things calm down.

Helpful advice of the day, if a cop stops you for going to fast, "Oops, I thought the speed limit was higher" will not get you out of the ticket. Although you will get complimented for your honesty! :)

Helpful advice part 2: Speeding tickets cost a lot. Don't get them.
---
MiracleASSassin
Aaron Shurtleff uses this area as a dumping ground for his random thoughts... Read more »