---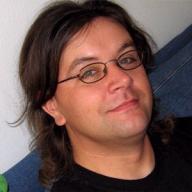 Good day.

Am I really going to start doing daily mini-blogs just because my co-workers called me out? Apparently.

Nuffle, as I am sure you all know, is the great god of dices, who is known to be fickle and reward as much as he punishes. It comes from the table top game Blood Bowl. It is sort of a parody of football (American football, for all those who need to be assured that I speak not of soccer), using various fantasy races and similar archtypes. The idea is basically to win the game, by scoring the most points (of course), but it also allows for a fairly violent game where maiming or killing your opponents leads to you having a numerical advantage in players on the field. It's not really violent (which is what all people who play really violent games will tell you, of course), but it can be a bit much, I suppose. It's amusing. I've never really played the table top game, but I did (do) play the original video game Blood Bowl, which is based on it. I don't play Blood Bowl 2, because the computer I had at the time was not able to run it. I think the computer I am using now will run it, but the first time I bought it, I had to beg Steam for a refund when it didn't work, so now I am a bit reluctant to buy it, because I am pretty sure they won't be so nice if I buy it again and I can't play it. No need to waste money, right? Besides, there's a Blood Bowl 3 in production, so maybe I wait for the new game. ... That's a lot of exposition. Anyways, Nuffle comes from the "sacred texts" or some such thing. [It's actually a pronunciation of "NFL"..hee hee the humor] When folks play the game, if they roll well, then Nuffle approves. If they roll poorly, they curse the day that Nuffle turned his eyes from them. It's hilariously quasi-religious, and amuses me to no end to see/hear it.

I watch a lot of Blood Bowl 2 on YouTube and Twitch. I said that right?

It's been a long day. Not much to say. My house is being flooded with flies. I think there's something seriously dead outside making flies like crazy, but I can't seem to find it. We put out the giant fly traps, the ones that look like jars with holes in the top and a fluid that attracts and drowns flies. You know the type? THIS That link probably won't work, but I tried. I have a full one outside my back door [Which is the title of my sex tape hurr hurr hurr]. No, I don't mean it has a lot of flies. I mean, within two weeks of placing it outside, it has the fluid at the bottom full of dead flies, and there is a gross layer of live flies writhing around in the rest of the jar, and sometimes, you can see the maggots poking around in there too. They claim these jars are re-usable. I can't clean that. I can't. I know about the dangers of plastic and all the rest. Nope. Not this disgusting jar. Not happening. Sorry to the next generation, but this I cannot do.

Oh, crap. I need a song. And it can't be something ridiculous like "A Lap Dance is So Much Better When the Stripper is Crying" by Bloodhound Gang. No!

I haven't put a sad song in lately. "Hold Her Down" by Toad the Wet Sprocket is sad, but not in any way the type of subject matter I am thinking of. "Rosealia" by Better Than Ezra, maybe? Still kind of a bad subject (and why am I stuck on songs about violence against women).

sOnG oF tHe DaY: "Not An Addict" by K's Choice. Earlier today, I was watching one of those "Teen's React! Do They Know These Songs from the 90's???!?!?!?!?1??!" videos, and one of the songs was "Semi-Charmed Life" by Third Eye Blind. (which they didn't know, by the by) After the teens (kids, youths/yutes, etc.) listened, they mentioned it was about crystal meth addiction (which blew their minds!! lol). "Not An Addict" is also about drugs, of course, since you read the title, you probably could have guessed. The song has always stuck with me, even though probably most people have never heard of it or the band. Drugs are bad. Right?

I also read that a gaming YouTuber killed himself recently. His account name (is that what it is called? his handle?) was Etika. I haven't personally seen anything he ever did, but suicide is still tragic, and I hope his family, friends, and other people close to him find some measure of peace in the days to come. It's always tough to hear about these kinds of things, and it inevitably leads to the "thoughts and prayers". Not that thoughts and prayers aren't nice, but it just never seems like enough, you know?
The other thing that comes from this kind of tragedy is what I am about to do. I apologize for what seems like a trite expression, but I think this is also important in the wake of this kind of thing.
If you're hurting, and you are thinking about self-harm, please don't. Reach out to someone. It doesn't have to be me, but I don't mind if you do. I won't promise you the answers. I can't make any guarantees that whatever it is will get better. But I do know that you're not alone. There's people who care, even if it doesn't seem like it now. The number for the National Suicide Prevention Hotline is 1-800-273-8255, and they got folks out there 24/7. You want me? Send me a message. I don't want my number out there for the world, but I'll give it out personally if someone needs it.

Ok, enough of that serious stuff. You're here for fart jokes and potty humor. I have had bad gas lately...

How about this? Do you like board games? I sure do! The games I have been playing most recently are "Terraforming Mars" and "Sagrada". Also a bit of "Kerala" and "Noctiluca", which is the most recent addition. I would recommend any of them.

I don't play much as far as video games since I quit World of Warcraft. Some Minecraft from time to time, maybe a little Best Fiends on my phone. I actually watch other people playing games on YouTube or Twitch and it scratches that itch for me, I guess. I can't watch WoW, though. It's one of those things that you kinda have to play to really enjoy..for me at least. And I don't have the time or energy to play it any longer. It takes a lot to keep up with it...for me at least.

This is going kind of long.

Welp, I'm out.

In the immortal words of LL Cool J: "Yo baby, let me see your earrings jingle"
---
Three Replies to 26-VI-2019 or NUFFLE!!!



---
MiracleASSassin
Aaron Shurtleff uses this area as a dumping ground for his random thoughts... Read more »