---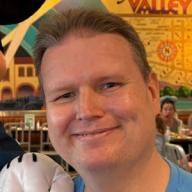 Continuing in my tradition of discussing pop culture 5-to-10 years after its shelf life: Once upon a time, I was an enormous fan of ER. From the time I started watching early in season one, I didn't miss a single first-run broadcast until I finally stopped watching late in season five. I learned the medical jargon; I memorized every minor character's name; I speculated about and debated the future plotlines endlessly. It was a great show and I loved it.

Like a lot of fans, I stopped watching at the time of George Clooney's departure, but that wasn't my reason. I had just gotten into the alt.tv.er newsgroup, supposedly a place for fans to discuss the series. These people claimed to be fans and watched every episode, but by all appearances, they hated it. No storyline was good enough, no performance right enough. The Internet is full of cranky, picky people, and these were the worst I'd seen. Within days of subscribing, I had gone from being a hardcore ER addict to someone who took no more joy in the show. I tried watching one more episode post-Clooney, but the love was gone. They'd sucked it out of me before I'd even realized it.

Today, thanks to Netflix, ER is one of the shows I've been able to catch up on, every episode from the top. Tonight, I watched the two-hour Clooney departure and recognize it as the best the series had yet produced, a potent story about the euthanasia of a boy and the disintegration of personal relationships that had spent years forming. Better yet, it was the perfect way to write out Clooney's character, a reckless rebel who enjoyed treating patients in ways that violated policy so he could thumb his nose at management; for years, it was obvious the jerk would someday wreck his career over a stunt like this.

But if you had asked the newsgroup at the time, it was a horrendous mistreatment of the character – Doug Ross would never do something ethically wrong like that! – and the show was wrong to write him out any other way than a ticker-tape parade where he was hoisted up on the shoulders of his enemies. The "fans" bashed it to no end, treating two brilliant hours of drama like garbage. They were wrong. I felt it at the time, but now I'm older and wiser and I've seen the entire series in short order, and I know it in my bones: They were wrong.

What's sweeter than the vindication is that I now love the show more than I did back then, with a fuller appreciation. I'm going to watch the next episode and keep on watching, venturing into unexplored territory. I've heard a fair share of future spoilers, but even if the show is eight years old to you, it's emotionally fresh and vital to me now. I have reclaimed a happiness that was once stolen from me. It feels damn good.
---
Two Replies to alt.tv.bitchbitchbitch


---
Logical Operator
The creator of Funeratic, Scott Hardie, blogs about running this site, losing weight, and other passions including his wife Kelly, his friends, movies, gaming, and Florida. Read more »