---
Can't Live With Her, Can't Live Without Her
by Scott Hardie on June 17, 2007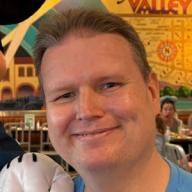 This is the truncated version of a much longer and more ambitious post about my relationships and why I don't blog about them. Let's just leave the reason at "duh."

Denise and I tried being friends again after breaking up, but it was based on each of us not saying what we really thought of the other, which is always unwise. Last weekend, her questioning revealed a bit of what I really think of her – I suppose it would have revealed a lot more if I'd had time to plan my words – and since then I haven't heard from her. If she did want to speak to me, I doubt if I'd want to answer. No hard feelings, but it's time to set our pretenses aside and get on with our separate lives. I'm indifferent about it.

Independently of this, Kelly and I began speaking again last weekend. She wrote something untrue about me online, I found out and argued my side of the story, and we arrived at a truce that has led to a few friendly conversations. I spent the last year dating other women and even began building a future with Denise, all of it part of a genuine effort to put Kelly behind me. But the whole time, I kept a difficult truth to myself, which is that I still love Kelly. She's the only woman I want; I have zero interest in dating anyone else for the foreseeable future. I don't know what might come of any of this, but I don't want to be dishonest about it any more, and that's why I'm writing this here.
---
Four Replies to Can't Live With Her, Can't Live Without Her




---
Logical Operator
The creator of Funeratic, Scott Hardie, blogs about running this site, losing weight, and other passions including his wife Kelly, his friends, movies, gaming, and Florida. Read more »