---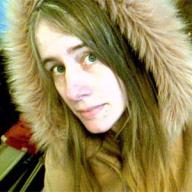 In a freak accident, I managed to splatter my husband's entire mug of cocoa all across the kitchen this morning, 1 minute before I had to leave for work. I apologized a bunch of times and kept asking if I should call in and tell them I'm going to be late so I could clean it up... but he said he'd try to clean it up. Am I a terrible person because I went to work and left him to clean up my mess? I spend a lot of time thinking about what a "good" person would do in any given situation... I think I usually fail to do the right thing.

Anyway... I hope I haven't left Darrell with more than he can handle, he's sometimes not the most knowledgeable on household things... kind of like Larry David in Curb Your Enthusiasm who was so perplexed by the difficulty of getting the necessary items to wrap a present that he gave up and delivered it unwrapped... ahem... I couldn't help noticing on Scott Hardie's Netflix that he "hates" Curb Your Enthusiasm (CYE). I think Scott and I have to agree to disagree on a number of things :) Anyway I believe Scott likes Seinfeld so I have a couple theories on why he may hate CYE.. 1. He thinks it's a pitiful attempt at an imitation of Seinfeld style humor, or 2. He thinks Larry David's character is a despicable human being and it's wrong to find humor in him... Why I spend time theorizing on why Scott thinks what he thinks, I have no idea :)

Anyway, some episodes do seem to be trying too hard to attain the Seinfeld style humor but I always at least get a chuckle out of them and it can be hard for me to find anything I actually laugh at... :P Some people have told me I have no sense of humor :P. I'm just glad my husband has the same sense of humor as I do so I don't have to be tormented about what I find funny and what I don't, or forced to watch American Pie 2 and told I'm an idiot for not guffawing... sigh... This episode of CYE I watched last night was pretty memorable... funny and painful... it was the Affirmative Action episode. It had me laughing, gagging, and scratching myself... hmm....
---
Eleven Replies to Cocoa spills and Larry David











---
Prayer for the Paranoid
Denise Sawicki posts whatever she feels able to post without serious consequences Read more »