---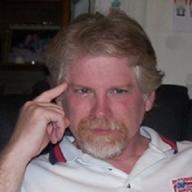 I haven't posted since the incident in January and used that time to do a lot of soul-searching. A lot of it was fruitless. I told my boss' boss of the circumstances behind my asking for a day off because my boss was vacationing at the time. She was very gracious and extended my request of one day off to multiple. She asked an interesting question though, "Why do you think you had that dream now instead of in October or earlier?" I've mulled that over and over and have mixed feelings about it.

My views on compassion and kindness were reinforced recently when a good friend of ours was diagnosed with thyroid cancer. She is a recent mother in her late twenties and is scheduled for surgery tomorrow. When we were given the news early last week, we sent cards of encouragement to both she and her husband. Lauren wanted to send a card as well and chose a very suitable card. On the front is a young boy with an obvious, teeth-bared, look of effort on his face. The card says, "I'm praying as hard as I can for you." And she is. She insisted on enclosing a dollar to emphasize how much her heart is breaking and is making every effort to make her feel better. We got a Facebook reply from her that said as much as our cards were appreciated, Lauren's was her favorite because she knew that Lauren meant it. Not that she thought our feelings were insincere but that there was somehow a purity in the innocence of a child saying she wanted her healthy again.

So Lauren has influenced me instead of the other way around. I'm okay with that. I've lost some of my own innocence over the years and adore hearing her perspective on things. I've reached the conclusion that I'm more frequently morally outraged without the accompanying compassionate heartbreak that should be there. What I hope to see in myself are fewer jokes about things that I shouldn't be amused by in the first place. So, I'm working on my compassion - an uphill battle worth fighting, Thank you, Lauren.
---
Five Replies to Compassion





---
Web Junkie
Steve West scours the Web searching for interest or absurdity and then shakes his head ruefully when he finds it. Read more »