---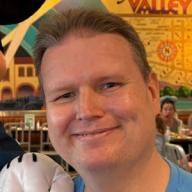 Today I came across this photo gallery of independent restaurants around our area. Some of them we've enjoyed, like GooCon favorite The Lobster Pot, and others are ones we just haven't gotten around to yet. As pretty as the food looks, I find myself looking at the dining rooms and noticing how many of them look decorated for private parties.

That got me thinking that Kelly and I will be getting engaged and planning a wedding before long. But would I choose one of these restaurants to hold our reception at? I want a place that we feel connected to. I want a place that we've been to so many times that it feels like it represents us. That's how I came to realize that the most appropriate place for our wedding reception is the local Chinese buffet.

We really need to get out more.
---
Ten Replies to Haute cuisine










---
Logical Operator
The creator of Funeratic, Scott Hardie, blogs about running this site, losing weight, and other passions including his wife Kelly, his friends, movies, gaming, and Florida. Read more »