---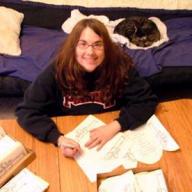 Pigeon - An overweight urban dove with an iridescent neck and funky little head movements, commonly imitated by dancing humans.

Why you should hate them : Their cooing sends a dread through all humans, because if you can hear it, it is probably near enough to be decorating your property with disease-ridden droppings.
There is no escaping them, as they inhabit cities world-wide. Their favorite activity is frigging up the ornate facades of well-designed buildings. Aside: Why is it called a building if it's already been buitl? It is the non-insect equivalent of a housefly, in that it feeds on the most disgusting filth imaginable, and it frequently flies away when alarmed, only to return to THE SAME &(%*&*&%%&**&% SPOT seconds later. It also kisses up unstable people just for the food. It mocks the accomplishments of great historical figures by perching heedlessly on their plaster heads. It tries to appear on national T.V. by landing on fields and gridirons mid-game. Furthermore, a nameless terror can be brought about by gazing into the eyes of a pigeon.
---
AdriRant
Adrianne Rodgers complains about life and all its little nuisances. Read more »