---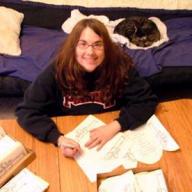 Can we please, *please*, give these stores a break people? There's no need to get all up in arms over the fact that Walmart and Target are greeting people with, gasp!, "Happy Holidays" instead of "Merry Christmas." I know, say it isn't so. Sadly it is.

People are calling for boycotts over this. Yes, it's mostly the weirdo fundie people, but regular folks are also irritated about it. So I have to ask...why? People do realize that other holidays besides Christmas are going on this time of year, right? I mean, Hannukah , and Kwanza start up as well. I know what I'm saying right now may be shocking but...and brace yourselves for this everyone...there are other religions besides Christianity out there.

Have you all picked yourselves up from the floor yet? Is everyone okay? give yourself a few moments, it does take some time to sink in.

It's the Holiday season, with its pasts rooted deep in Pagan mythology. Some people do celebrate Christmas, yes. Some celebrate Hannukah. Some are celebrating the Winter Solistice. Some, like me, just like the pretty lights. I dare anyone out there to come up with a definitive link between Santa, Frosty, and Jesus. Can't do it, can you? Can we please just say "Happy Holidays" and everyone be pleased about it?
---
Five Replies to Happy Freakin' Holidays





---
AdriRant
Adrianne Rodgers complains about life and all its little nuisances. Read more »