---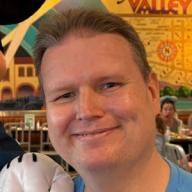 One winter in the mid-1970s, my grandfather Donald was hospitalized with a serious infection in his foot. Being diabetic, he went out of his way for years to avoid any infections or other hazards, but his luck had run out. On Christmas Day, he was informed by the doctors that they would have to amputate his foot the next morning. He took the news badly, but managed to contain his rage until one of the doctors wished him "Merry Christmas!" on the way out the door. He threw a bedpan and yelled curses at the door. If I remember correctly, that was his last Christmas.

That old family story has been on my mind this week. Kelly has been hospitalized for eight days now with a dangerous infection that might cost her right arm, or her life.

It started in September with a mysterious shoulder injury. On a road trip, Kelly woke up in a hotel room unable to move her upper arm. It took weeks to get her a doctor and specialist and MRI scans and other analysis, and we never did get a satisfactory explanation for what might have caused it. For three months, she was unable to move her arm due to the constant pain, and nothing helped—not pain pills, not physical therapy, not even going to sleep, since the slightest shift would wake her up with sharp pain. We don't know how much her diabetes contributed to her inability to heal the injury.

In mid-December, the arm started swelling and turning red, just slowly enough that we couldn't tell at first if we were imagining it. An urgent care center didn't seem to think it was serious enough to seek hospitalization. A few days later, her doctor did, and put her in for emergency surgery to explore the damage of what was now obviously an infection. It had spread to the bone and had done damage to the joint, and the cultures showed that it was MRSA, a form of staph infection that is very resistant to treatment.

We spent the next week waiting and worrying, through Christmas. I chose to ignore the scary possibilities that I saw online about MRSA and diabetes, and tried to focus on real information actually said by Kelly's doctors. The daily evaluations gradually got better and better, and for the first time in months she had some relief from the pain, thanks to the hospital-grade medicine. Now it looks like she's going to be released tomorrow, with six weeks of antibiotics at home and who knows how many months of physical therapy to regain some movement in the arm.

It's been an ordeal and it's far from over. But given the possible outcomes that we've been lucky to avoid thus far, I'm so relieved that Kelly is recovering and coming home. There's nothing like a medical scare to make you appreciate what you have and what you almost lost.
---
Two Replies to What We Kept


---
Logical Operator
The creator of Funeratic, Scott Hardie, blogs about running this site, losing weight, and other passions including his wife Kelly, his friends, movies, gaming, and Florida. Read more »