---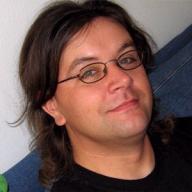 Read my review of the film Teeth, which probably will be personally responsible for getting goo.tc some fairly interesting hits! :)

Look out, Scott! I'm catching up to you on movie reviews. Ha ha.

I did a yahoo search of my name the other day (What? Don't you?) The fourth hit was the wikipedia page of Shin Megami Tensei: Nocturne. I did not write that page, but I do own that game. I play it. I love it. I don't know why a Yahoo Search of my name brought that up. If anyone can figure it out, let me know, because I'm perplexed.

Short one today. Less than 100 days to GooCon! Less than 24 hours to MetroCon!!!
---
Four Replies to 17-VII-2008 or Severed Penises!!!




---
MiracleASSassin
Aaron Shurtleff uses this area as a dumping ground for his random thoughts... Read more »