---
25-IX-2009 or GooCon Post Event Report
by Aaron Shurtleff on October 25, 2009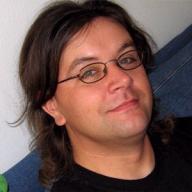 I'mma let Scott do his post-event report, but Aaron Shurtleff is the greatest live GOO game champion of 2009 ever!

And now a short listing of in-jokes from Goo Con Citrus Ridge:

Push it, Bowwow. Push it hard.

Hot Karl Marx. Hot Carl Weathers. Hot Carlos Mencia. Hot iCarly. A whole line of hot Carls!

...Tesla Coils smell bad...

I have a donkey dong. (Not me, but someone else...)

What do you mean you don't know who Stephen Colbert is?!

Scott's mom

Bo Jerkig

Ooh! A piece of candy!

Oh, and Matt Preston was an (incorrect) guess for one of the Celebrity GOOs.

An actual post-event post will follow soon. I'm off to make merry with the wife on her 29th birthday... Wish me luck! :)

...Not that kind of luck! One Aaron is one too many!!!
---
Nine Replies to 25-IX-2009 or GooCon Post Event Report









---
MiracleASSassin
Aaron Shurtleff uses this area as a dumping ground for his random thoughts... Read more »