---
Eulogy for Two or Possibly Three Restaurants
by Scott Hardie on August 19, 2006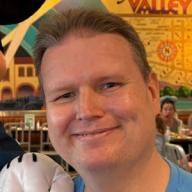 Dining in Sarasota at 10:30pm on a Friday night is not the easiest proposition. I took my friends Miah and Ines downtown to the only non-franchise I knew would still be open, an upscale sports-themed bar & grill called Patrick's. I've had fifteen or so great meals there, but not last night. The sign and the menu said they were open till midnight, but they told us to sit in the bar area, and when I asked if they were still serving dinner, they told us again to sit in the bar area. After Ines had finished a fifteen-minute call, the only attention we had received was when I flagged down the passing manager and he asked if we'd been helped and I said no and he walked away. Ten minutes later, we walked, and I don't know if I'll be back. I really like that place, but if you're going to close soon, just say so and we won't waste half an hour watching your wait staff walk past us without looking.

We tried walking a block down the street to what had been my favorite restaurant in town, a festive New Orleanian themed restaurant called Bayou Bleu, home of great food and a colorful French Quarter atmosphere. I had read six months earlier on their web site that they were closed due to the parking lot construction across the street, but it wasn't clear whether that was temporary or permanent. The "for sale" sign in their window drove the message home. I'll really miss that place, a favorite spot to take friends visiting town. It even made reference in FIN: When I ate a meal there with Matt Preston and John Edwards, John tried crawfish for the first time in his life and loved them so much he ordered more and insisted we try some, and soon after I wrote Wo Jin doing that to the group upon their arrival in the Big Easy.

We wound up a block in the other direction at Mattison's City Grill, one of the most prominent eateries in the city. It's entirely outdoors on a small brick-paved lot, which isn't ideal in the summer but it's nice when there's a breeze. I had only eaten there once before, years ago, a weekend lunch stop with my mom that provided a lousy sandwich, no drink refills, and seating in such flimsy, plastic, Wal*Mart-sold patio chairs that I was afraid ever to sit my fat ass in one again for fear of collapsing it. I could swear they've remodeled since then: Metal and wood chairs, a lush awning, tiki-and-grass-hut decorations, attentive service, and delicious food. Other than the noise level it was a good meal that rescued the night.

There was one more disappointment on the drive back. I went to point out another of my favorite restaurants in case Miah and Ines were looking for ideas, a little-known French-influenced restaurant called Café of the Arts. Not only were they across the street from the art museum; they were decorated with fine oil paintings. But, apparently they were too little-known, because they're now a mud lot and the building is a cinder-block frame. Maybe they burned down and are under reconstruction or something, but I think the sign was gone.

Not that I'm a dining connoisseur by any means, but I prefer a genuine locally-owned restaurant over a goddamned franchise any day. I sincerely fear for our children's culinary future; by the time they're our age, there won't be anything left but Olive Garden, Applebee's, and a couple dozen more generic bores along the same line. When they want fine dining, they'll go to Ruth's Chris Steakhouse, and never know what they lost.
---
Four Replies to Eulogy for Two or Possibly Three Restaurants




---
Logical Operator
The creator of Funeratic, Scott Hardie, blogs about running this site, losing weight, and other passions including his wife Kelly, his friends, movies, gaming, and Florida. Read more »