---
Have I Mentioned How Much I Love My Wife?
by Steve West on December 22, 2008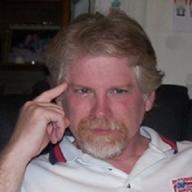 I got a surprise visit from Amy Austin today. She was passing through Maryland on her way to Florida and took the time to call me from the road. I was thrilled that she thought of me being in the area and invited her to visit for what could only be a brief visit. She had a long trip still to go today and sadly, I was scheduled to work. Add to that that she was arriving shortly before the Redskins were scheduled to play a home game and the traffic was sure to be horrendous in the direction she was going. Despite all that she arrived, true to her word, and it was just the best hour and a half that I could have imagined. We met at the door to my house and immediately embraced in the warmest hug made that much warmer for me because she hugged me back. You know how you hug some people and they tolerate it, but that's all? There's no return of affection. Not with Amy. It felt really good.

Now, don't mistake the title of this post for something it's not. I don't feel any need to reassure my wife of my feelings for her because I enjoyed Amy's visit and her hugs. It's really about bits and pieces of conversation we had that made me realize how much time I spend with this site; how much I talk about the other site participants; how I invite them to our home and actually fly, at no small expense, to partake of a get-together of site members of whom I've become fond. Brenda doesn't resist this at all. She doesn't begrudge the time I spend either on the site or talking about the site - either the games themselves or the people participating. She allows me this indulgence with no ill will. I have to say, though, that when I called Brenda (she was returning from church) and told her Amy was coming over, she practically screamed at me, "Can you at least pick some crap up!" I told her, "Hey, it is what it is. Amy won't mind."

At GooCon, I was way off on my pre-impressions of people I met there. I think I mentioned that already. Not so with Amy. She was pretty darn close to what I had imagined (it's all good). And I even got to briefly meet the dogs, Angel and Devil. Little sweethearts. Thank you Amy for making this visit happen. And thanks to my wife who has nothing but patience and understanding for my feelings regarding this site. Meeting Amy only reinforced in her mind an understanding of the really cool people who come here.
---
Thirteen Replies to Have I Mentioned How Much I Love My Wife?













---
Web Junkie
Steve West scours the Web searching for interest or absurdity and then shakes his head ruefully when he finds it. Read more »