---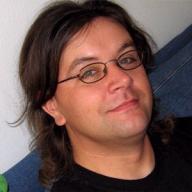 I know this is the last thing anyone wants to hear, but I have been so unable to effectively play Rock Block lately. I can't think 2 moves ahead without forgetting what I was doing. I might be the first person to run out of cards from losing all the time! :)

Anyhow, the holiday season is pretty busy at both my jobs, so it's hard for me to get in here to write. Plus, I don't feel like I have anything to say! I'd hate to just be putting random crap in here; I want to use this to express what I have on my mind. I just happen to have nothing on my mind.

I need to burn music on my iPod. Oh, I got an iPod. Actually, I got my wife an iPod, took hers, and gave her mine, since it already had her music on it (I think I spoke of this before). It's cool to have an iPod, but now I have no desire to use it, since I don't really have any good places/reasons to use it. I appreciate the compact size and huge storage, but...

I think what the problem really is (we're back to Rock Block..try to keep up) is that I get so...anxious to not lose that I psyche myself out, and make myself lose. I need to be less competitive about it, and try to have more fun. (Scott, if you read this, this is all me. Don't think that I am in any way dissing RB. I just..want to win more than I lose, which is tough for me...lately)

Plus, I want to get all the Achievements. I have no patience for waiting! :D

Oh! And I finally got to see "Reign Over Me", which was really better than I thought it would be. I don't know why I really like movies involving people with some kind of mental issues...could be that I can sympathize? ;) I don't want to spoil it, but it's a must-see, in my opinion!!

Although, in the interest of full disclosure, I also have hit or miss taste in movies, so I've been told. :)

Anyways, song of the day (I need to concentrate on RB...Steve West is trying to trick me into losing two in a row to him!) will be "My Insatiable One" by Suede. I like it. No big secret reason.

OOH! He totally got me for two straight!! GRR!!!
---
Eleven Replies to 5-XII-2007 or I Think I Need a Break











---
MiracleASSassin
Aaron Shurtleff uses this area as a dumping ground for his random thoughts... Read more »