---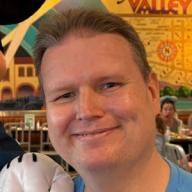 I'm now in my fourth week on the Atkins diet. I had planned to write about it at the start and maybe once each week, but I've been so busy... dieting.

The biggest aspect of this that I didn't expect was how much time I would spend deciding, preparing, and eating my meals. Even going out to a restaurant requires me to scour their web site beforehand to calculate how much I can eat. Kelly likes meat entrees already (I'm learning to like them), so we have eaten a lot of meals together lately. After the cooking and the eating and the watching an hour-long show and going for a walk afterwards, my "night" finally starts around 9pm. I'm not complaining; it could be late nights at work (I have a few of those too) or needy kids or other obligations rather than taking care of my health and spending time with the woman I love. I'm just saying that it's been quite an adjustment, this loss of "me time."

Mentioning to people that I'm on Atkins often results in people telling me that they did it too, or their friends or their family did it. I'm a decade behind every trend, so this is to be expected. (I think it's just about time for me to read The Da Vinci Code.) I expect comments on this post hearing about other people who did it. It's encouraging to hear! Most people don't seem to me to have lost much weight -- 15 pounds here, 30 pounds there -- but I remind myself that my weight problem is much more severe than most people's and that IS a lot of weight for them. I just have hundreds of pounds to lose instead of a mere pot belly.

The meat is ok. Kelly is converting me into a steak and pot roast fan. I eat a lot of scrambled eggs and sausage, and pre-packaged salads from the grocery. Snacks are tough; I nibble sometimes on pepperoni but have yet to find something really convenient for that. Bubba burgers are manna.

I've discovered something about my lifelong weight problem that seems obvious in retrospect: It wasn't pastas that I was addicted to, despite countless meals gorging on enormous bowls of noodles. It was sweets and sugars that had me hooked. I haven't missed breads or pastas or rice at all, or even potatoes. I see them in a photograph now and think of what a waste those empty calories are and want nothing to do with them. But sweets? I drank diet soda all day every day, and chewed on breath mints relentlessly at work as if my job depended on fresh breath. Getting rid of those was even harder than I expected. I get powerful cravings for sweets around 10pm, a time when I used to nibble on cookies or ice cream. I tried Mio for a few days, but I kept adding way too much to my water and had to make myself stop. Now, I just try to put it out of my mind and the cravings go away; the only sweet taste I get is from brushing my teeth. When I transition to the second phase of Atkins, I'll finally get to eat some fruit, but I'm staying on the first phase for as long as I can stand it because this body needs to slim down.

And that's really what it comes down to: I had to do this. My options were Atkins, surgery, or death, and the second option was only slightly less appealing to me than the third. My calves would turn into tree trunks by the end of the night. My arms would have a purplish hue until I lifted them over my head, at which point the warm blood would rush back into my chest and make me dizzy. I could go on, but needless to say, the side effects of severe obesity were starting to get scary instead of merely annoying. I feared dropping dead of a heart attack -- not by the time I'm forty, but now. Every time I felt faint for a moment, which happens often because I have arrhythmia, I'd think, Is this it? Am I about to have a heart attack? Can I die here, in my car / at my desk / visiting with friends / just putting my pants on in the morning? Living with that kind of morbid thought process every hour of every day was unbearable.

After three weeks, Atkins is helping. I'm down 10-15 pounds according to my belt notches, and just bought a proper heavy-duty scale for real measurements. The extreme side effects of obesity that I mentioned above are gone, and the mental fog in the afternoon is gone too; I'm sharp and productive from morning until night. But I'm hungry all the time, despite Robert Atkins's admonishment to eat more as the solution to that problem. I can eat huge portions, even an entire 12-piece bucket of KFC grilled chicken, and still feel hunger pangs in my belly minutes later. I fear caving in because of the hunger or the desire for something different or just plain self-destructive impulses rooted in depression and guilt. Atkins is not a diet where you can sneak a bite of forbidden food once in a while; it requires absolute adherence or the fat-burning stops.

I hope I can keep up the first phase for a long time and successfully transition into phase two before I reach a breaking point. I need this to work. I really need this to work.
---
One Replies to Atkins










---
Logical Operator
The creator of Funeratic, Scott Hardie, blogs about running this site, losing weight, and other passions including his wife Kelly, his friends, movies, gaming, and Florida. Read more »