---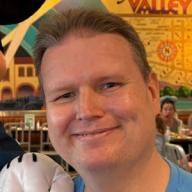 Is it already the end of December? It feels like it's been three days since Thanksgiving. Between late nights at work, holiday parties, and shopping for the big day, this month has been a blur. Lord help me if I ever have a kid. :-P

I have a brand-new four-day weekend to enjoy, and three of those days are devoted to this site. One change won't be popular, but I'm also going to fix some things around here that need improvements, and I hope to put up some better goos than the scattershot ones that I barely managed to get up in the last few days. Stay tuned.

I'll say to you the non-holiday message I've been saying to everyone else: Have a wonderful long weekend.
---
Two Replies to Back in Black


---
Logical Operator
The creator of Funeratic, Scott Hardie, blogs about running this site, losing weight, and other passions including his wife Kelly, his friends, movies, gaming, and Florida. Read more »