---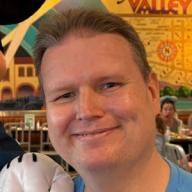 Last night I had the privilege to attend a Halloween party thrown by Miah (Jeremiah) Poisson and his fiancée Ines Sarante, which doubled as Miah's birthday party. My thanks to the hosts! I had a great time.

Click on any thumbnail to zoom in.


Denise Krecicki as Little Red Riding Hood, or possibly as Penny Arcade's Strawberry Shortcake. If you missed the History of goo.tc feature, Denise and I are seeing each other now. More on that soon.


Miah as Lex Luthor. That's not a bald cap.


Ines as Lois Lane and friend Brian Lowe as Hugh Hefner.


Me as some kind of 70s guy. My costume is part of this year's prestigious Best of Walgreen's collection.


---
Seven Replies to Halloween Party 2006







---
Logical Operator
The creator of Funeratic, Scott Hardie, blogs about running this site, losing weight, and other passions including his wife Kelly, his friends, movies, gaming, and Florida. Read more »