---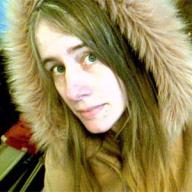 Well last night I had somewhat of a weird experience when this wacky lady came to our door to sell some cleaning supplies for $37 a bottle... I normally do not buy anything from solicitors but she had me flustered and I was cracking up at everything she was saying... Didn't want to send her away empty handed after her lengthy comedy show. For fear of looking racist I am posting a link to a very similar experience someone had with the same company, found elsewhere on the web.

Basically she kept pointing out that she was black over and over. When Phil barked at her she said, "He doesn't like dark meat does he?" and when I said Darrell does most of the cleaning she said, "Does he have a brother who likes dark meat?" And she was giving me all kinds of weird compliments, saying she liked my long hair ("when black ladies want long hair they have to go to the store and buy it") and saying we had a wonderful huge house bigger than her church and her dream was to one day be able to afford a house like ours. It happens to be about the smallest house they make but whatever.

Anyway I accidentally wrote her the check for the purchase price without tax. I didn't notice where she'd written the price with tax. She had already given me the product and was long gone by the time I noticed this and I was feeling bad about cheating her out of her commission. But now, after a little research, I'm just hoping I haven't cheated myself out of more than I bargained for: See this scary story.

Oh well.

I am inclined to trust her anyway I guess but I hope I didn't upset anyone by writing the wrong price and make this sort of scam more likely.

I guess I am going to be more careful about opening my door in the future. I thought I was good at saying no but I guess I was wrong!

Note, I wrote the check to the company, not to some individual like the person did in the BBB story. Still I feel bad about the tax thing and hope I don't get in trouble or something.
---
Six Replies to door to door salesperson






---
Prayer for the Paranoid
Denise Sawicki posts whatever she feels able to post without serious consequences Read more »