---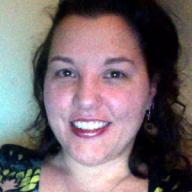 I don't remember if I made any mention here (aside from any private messages) about my grandmother's death at the end of April. It was rather sudden/unexpected, given her condition at the time... and, considering all other grief in my life at present, I took it a lot better than I ever thought I would -- I was closer to her than any other member of my family (probably true in both senses, actually). However, I've been carrying around an extra bag of sadness ever since... which was made all the heavier by a few things -- not the least of which was strained family relations... and a very upsetting e-mail exchange with Ed concerning the destruction of one of my wedding gifts from her by a complete and total stranger (someone... a "friend" of his... that he chose to rent to in my absence (pre-divorce), without seeking my permission or feelings on the matter at all... and it was actually her children -- that I never even knew existed, on top of it all -- who destroyed it) -- including an unpleasant repeat of another rather sad chapter of my personal history.

That repeat being the receipt of a speeding ticket on my way home from her funeral -- much like the ones I got on my way to see my grandfather on his deathbed (on Veterans' Day, no less) and again after his funeral a few days later -- both won in the home stretch to my house after several hours of driving. This time, I was a mere twenty minutes (and/or miles) from being welcomed by my bed.

Needless to say... with no job and not much more money... I decided that I just couldn't stomach paying the $270 fine (or receiving the points), and I paid my gotcha'-no-matter-what costs -- clerk of courts fee (for extension of deadline that I was not informed would cost me extra), court services fee (for bullshit community service "orientation"... bullshit because it required a ten-day wait to be scheduled for what really only amounted to reading and signing two pages on rules and liability, in front of a crabby city employee to witness, and was not conducted in much of any informative fashion or in keeping with any "orientation" that I've ever been to), and online traffic school fee (the cheapest of the hidden costs -- and since February 2009, does nothing to reduce traffic citation fines... well, fine) -- and elected to ask for community service.

So when asked if I had an organization in mind -- although they do not show you the "work pool" selection of organizations "because it would take too long for everyone to look at it" (shouldn't that be part of "orientation"???) -- I immediately specified the local Humane Society. Again (due to the holiday weekend), I had to wait another several days to be scheduled for yet another orientation on rules/standard operating procedures (remember that I'm on a deadline to complete my court-ordered 39 hours) -- but at least it was over an hour and did what an orientation is supposed to do... orient and inform!

Since I was already up for the orientation at 0900... I decided to stay on for the remainder of the day and knock out some time. I did everything from sweeping/scrubbing floors to walking and picking up after excited/stir-crazy pooches (and let's not forget how stress can affect one's stool) to folding laundry and sanitizing cages. Oh, yeah... and it rained... hard... most of the day, and so I stayed quite wet (and yet quite warm) throughout it all. I also got bit by the first dog I tried to walk... which really surprised the crap out of me and also put me in a very undesirably apprehensive mood. Didn't puncture my skin, thank goodness, but my arm has been turning blue and purple all day long. Oh, yeah... and I did it all on three hours of sleep -- because I've been living like the daughter of Dracula since... well, too long now.

Then I got to chit-chat with another court-ordered community service "volunteer" (hey, I actually did volunteer for this -- I could have paid a fine instead, you know!)... with a felony charge against him. How did I come to know that bit of information, you might ask? Well, guess what... all volunteers are required to wear a name tag. The "regular" volunteers (those who are there out of nothing more than the kindness of their hearts... boredom... or some other kind of credit, e.g. Girl Scout badges?) are instructed to write theirs with the blue Sharpie marker. "Court-ordered" volunteers (the delinquents and felons among us) must pen their tags with the *red* Sharpie marker... so that "they know who to call if something happens to you" (never mind the emergency contact information that is filled out in the first steps of the process) -- Scarlet Letter, anyone???

So yeah, Mr. Nine-Count Felon (but only one that "stuck") saw my red tag and asked me, "how many hours you got?" ("Oh, yeah..." I remember, "that big red "A" on my chest...") I told him -- "39 hours for a speeding ticket on the way back home from my grandmother's funeral." His response? "Is that all???" I think he meant "all I did" for a week of court-ordered community service. I politely explained that I was unemployed and had *elected* to request permission to pay my fine in this manner... since I'm short on money and long on time and all. I don't think it had occurred to him that anyone would choose to do such a thing in lieu of a fine -- he seemed inclined to want that option instead. I guess driving drunk, speeding, resisting arrest with violence... and whatever the other six counts that he mentioned were (resisting arrest with violence was the one that had tagged him as a felon) didn't come with that option.

So, I came home long enough to shower and then headed over to my best friend's house for a nice meal cooked by her. Much as I didn't want to leave, my own two babies had spent the entire day in their crate so that I could help others. And it was surprisingly late. Ruined the third start of my stupid RB streak, dammit... Ah, well. Matthew Preston owes me assistance in obtaining an Achievement. Tomorrow, it's back on. In the meantime... I am... totally... exhausted.
---
Six Replies to Exhausted.






---
Nocturnal e-Musings
Amy Austin counts down the days until... something... Read more »