---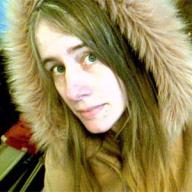 I just get so frustrated. I want my husband to be happy but the things he's decided will make him happy are completely out of our control (success at music). I wish something good would happen for him finally.

Our puppy has decided to start barking in the middle of the night. We hardly got any sleep. That's also my fault because I was obsessing about something. What does someone mean when they say "give what you can"? What I technically "can" give is a somewhat ridiculously large amount because I've been saving my whole life. But I don't want to give up our entire future financial security to people I honestly do not know. This probably makes me a bad person. Obviously it does. I just feel so totally evil and worthless so much of the time. There's no help for it really.

We are taking Philip to puppy school tonight, and then the guys have a show. So that means at least two car trips, since puppies aren't allowed in bars last I heard. Actually a sheltie attended one of the guys' shows once but it must have been a special sheltie to be allowed that. I don't much like shows on work nights. I'm not sure I can even stay awake that long. Then again, sometimes I lose the need for sleep, so it might be OK.

I've sometimes found around here that people don't know what the heck I mean if I use "Indian" to refer to a person from India. Then again, we are more backwards and lily-white here in ND than most places. Sorry for the confusion.
---
Five Replies to Frustrated





---
Prayer for the Paranoid
Denise Sawicki posts whatever she feels able to post without serious consequences Read more »