---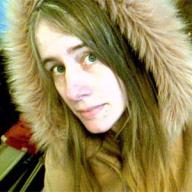 So I am rather pleased to have bought what seems to be a US Air Force greatcoat for $12.50 at a thrift store... Darrell wants to be Jack Harkness for the convention or for Halloween and I can't say I blame him. Harkness wears a modified British Royal Air Force greatcoat but this one we found looks pretty decent to my eye. I am amazed at the lengths that most people seem to go to when making Harkness costumes though. They buy actual 1940s British coats for at least $100 and have them shipped here for $100 more. Then they go to great lengths to get all the details and accessories perfectly accurate. I dunno. I think we will just use this coat and a $3 vest we found and some normal pants, shirt, and boots, and call it good.

Physically Darrell doesn't bear much resemblance to Jack Harkness... I wonder if Darrell will actually get a short haircut for the occasion, unlikely I guess :) But he looks cute in the outfit nonetheless.

I've also taken up reading the "Song of Ice and Fire" series by George R. R. Martin, in prepartion for this convention, since Martin is going to be there. I got through the first 3 books so far and I will go pick up the 4th one at the library when I get a chance. Anybody else read those?

EDIT: I got some pictures up on my facebook (which I have never actually used before). Not sure how best to put the pics here, I probably won't for a while since my internet is so crummy and slow.
---
Six Replies to Greatcoat






---
Prayer for the Paranoid
Denise Sawicki posts whatever she feels able to post without serious consequences Read more »