---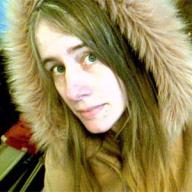 I got up before 5, took a shower, did a bunch of my fun and addictive getting-free-stuff-on-the-internet activities, had breakfast, and went and found some treasures in Kameo, all before heading out to work at 7:50. That was awesome. We always go to bed before 10 anyway so what's the point hanging around in bed in the morning when I'm not tired. Anyway I must be on my "manic" phase and will probably lash out in anger and descend into depression before too long. You guys do not witness these sides of me because if I'm depressed, I have nothing to say to anyone. Who knows if I may go postal on this site sometime though. I was toying with it in my last post. I just get really mad at life sometimes.

Speaking of Kameo, Darrell is impressed with me for having some measure of success at an actual action game. I'm able to enjoy it mainly because it is so cute and colorful. I don't have too much interest in all those dark and gloomy looking video games. I defeated this big jellyfish boss last night, which has to be the biggest video game success I ever had. Never mind I had a health-regenerating thingy equipped that Darrell hadn't found when he played the game. I'm actually quite pathetic and am always flailing about punching empty space and getting beaten down by my enemies but with my health regenerating it is all quite easy and painless. Just tedious, but I like tedium. :P Well that is *after* Darrell had to explain to me how to swim using my controller, I couldn't seem to figure it out on my own. :P

This post is for Steve who is wondering what is up in my charming life!!! hehe

EDIT: I know I don't have manic highs, that's why the quotation marks. I do have rapid cycling moods though and feel more energetic and talkative at times. I mention because I know it's irritating when I appear to throw about bogus diagnoses of myself.
---
Eight Replies to I love waking up early








---
Prayer for the Paranoid
Denise Sawicki posts whatever she feels able to post without serious consequences Read more »