---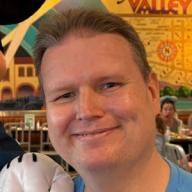 After a hectic househunt and move, it was nice to have a family vacation to take a break from everything. The whole visit had already been planned back in the summer, and we had spent six months saving up plenty of money to pay for it, so all we had to do was relax and enjoy it. Kelly's father Russ and brother Andy, and Andy's boyfriend Joe flew in for a week.

Among the highlights: Breaking in our (very cold) new swimming pool. Watching an alligator show and chimpanzee show and big cat show. Zipping through clusters of mangrove trees in an airboat. Watching a fire dancer at a Hawaiian dinner show. Taking flight in a hang-gliding simulator. Eating Amish food and Mongolian food and German food and Polynesian food and fancy custom-made donuts.

My favorite part had to be Christmas dinner. We invited over Joe's father and stepmother and her mother, as well as my mother and her partner. Luckily, our new dining set easily sat ten people at the very busy table. Growing up, my family's Christmases were fairly quiet and sedate and formal, so having a big family Christmas with plenty of food and noise and laughter among strangers was a delight. We also took a page from Kelly's family traditions and stuffed a stocking for each guest with treats and small gifts, and I was in heaven getting so many smiles from people as they discovered what I had tucked away just for them.

I am so incredibly lucky! So many people are suffering these days (one of Andy's friends passed away while Andy was here), ill or miserable or fearful of the future. I don't know what I did to deserve this bounty of good fortune in my life lately, but I intend to enjoy it while it lasts. Bad luck has been around before and could return at any time.

I hope that everyone else in my life had a good holiday season and will enjoy a happy, prosperous, and safe new year.
---
Three Replies to Christmas 2016



---
Logical Operator
The creator of Funeratic, Scott Hardie, blogs about running this site, losing weight, and other passions including his wife Kelly, his friends, movies, gaming, and Florida. Read more »